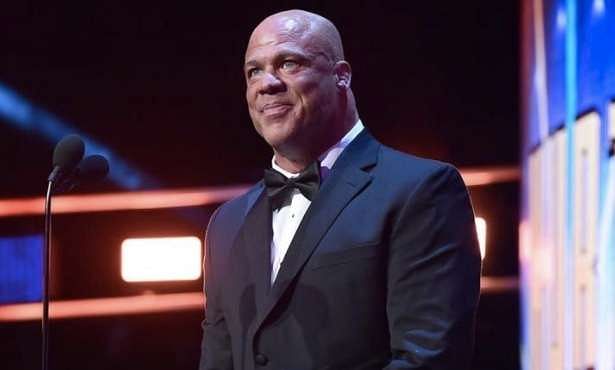 What's the story?
WWE legend and now Hall of Famer Kurt Angle has spoken out about what the company would and wouldn't allow him to do during the 2017 Induction Ceremony during an appearance on
WrestleZone Radio's WZ Weekly.
Angle returned to WWE on the Friday before WrestleMania 33 to headline this year's class at the Amway Center in Orlando, Florida.
In case you didn't know...
The Olympic Gold Medalist has been back in WWE for over a month now, and when the initial speculation of his return began, many fans hoped that he'd have one more match left in him. As of now, his focus seems to be on Raw as he is the show's General Manager, however, a lot of members of the WWE Universe remain optimistic moving forward.
The heart of the matter
The following are quotes from Angle's appearance on WZ Weekly.
"They didn't let me do everything I wanted to do! (Laughs) I wanted to drive the milk truck into the arena. (Laughs) The higher-ups said, "That's a little too much." You know what? The reason I wanted to come back to WWE, whether it was just for the Hall of Fame or they talked to me about being an ambassador or the GM role or me wrestling again. I really don't know about that yet. I wanted to come back and thank the WWE Universe, the fans. I also wanted to give a message to the younger talent on how to deal with your career and not make the mistakes I made and also to take chances."
Angle went on to explain why this was the best way to send his fans message:
"I really tried to give the fans a moment I thought they wanted to see. I thought the only way to do that was to show them by example. Not that those guys didn't watch me back then. A few of them probably never saw me even wrestle. A lot of these guys are pretty young. I wanted to show them what it is like to take a chance. Especially in a Hall of Fame speech. I don't think anyone has ever done that before. I figured this was the best way to send a message."
What's next?
Angle will continue on in his role as Raw GM for now, with many fans speculating that his 'one last match' will come at WrestleMania 34 in New Orleans next year. Whether that's the case or not, his current tenure is going well thus far despite the impending doom of Stephanie McMahon's return, which could spell disaster for Kurt.
Author's take
It's a shame that we didn't get to see the milk truck, but as someone who was there live to see his induction speech, I can confirm it was pretty special. Sure it may have been a bit too comedic at times for some people, but it encapsulated everything that we love about the former World Champion – intensity, integrity and intelligence.