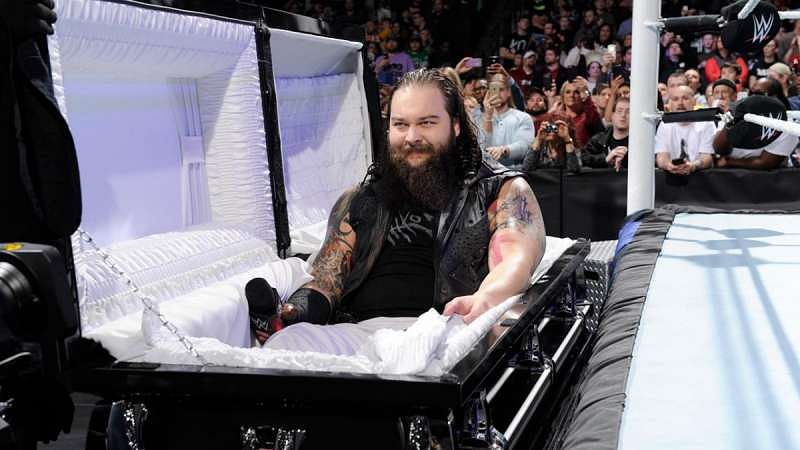 What's the story?
Bray Wyatt was on the
Sam Roberts Wrestling Podcast
recently. The former WWE Champion spoke about his eccentric gimmick and being compared to the Undertaker. Wyatt also spoke about his memories of WWE Legends such as the Ultimate Warrior and Papa Shango.
In case you didn't know...
Bray Wyatt finally settled the score with Randy Orton at the "House of Horrors" match at WWE Payback. Wyatt, however, had the help of number one contender to the WWE Championship Jinder Mahal and the Singh brothers.
Wyatt pinned Randy to avenge his loss at Wrestlemania. He then promised to make an impact on RAW the next night and managed to take out Finn Balor by interfering in the latter's match on the latest episode of Raw.
The heart of the matter
Given the dark nature of his character, it is natural that WWE fans often liken Wyatt to the Undertaker. Wyatt himself attributed the likeness due to the darkness in their nature. He felt honoured to be compared to 'The Deadman.'
He pointed out that he worked with the Undertaker at Wrestlemania and both men maintained their individualities throughout the match.
"I think if you put us side-by-side and watched our work, they're not similar. They aren't. It's the dark stuff that kind of brings us together that people want to branch us, but the thing is that we are completely different."
The Wyatt Family patriarch necessitated the presence of a dark entity in pro-wrestling. He stated that it brought out some of the more mystic and enticing aspects of the business. Wyatt said that he had always been a fan of horror films, and the angle between the Ultimate Warrior and Papa Shango back in the day, greatly appealed to him.
What's next?
Bray Wyatt will have the best opportunities to showcase the dark elements of his character as he is on the verge of starting a rivalry with Finn Balor.
Wyatt attacked Finn Balor during the latter's match to decide the number one contender for the Intercontinental Championship. This attack planted the seeds for a new rivalry between 'The New Face of Fear' and 'The Demon King.'
Author's Take
It is encouraging to see that Bray Wyatt is more focused on carving out a niche for himself, rather than following in the footsteps of 'The Phenom.' The kind of the aura that Wyatt brings is completely different from that of the Undertaker and I would rather it be that way.
Bray still has a long way to go and his recent success on the main roster shows that he is more than capable of grabbing the fabled 'brass knuckles' and running with it.