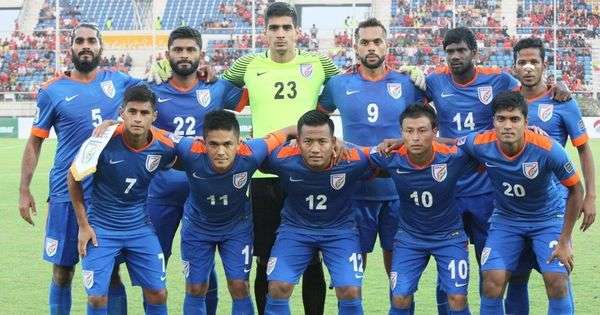 What's the story?
The Indian national football team have reached a 21-year high in the FIFA rankings as they have broken into the top 100. In the rankings released for the month of May earlier today, the Blue Tigers find themselves positioned 100, one place above their April ranking of 101st.
This amounts to a significant achievement for Stephen Constantine's team, who, despite not playing a single match in April, have jumped above Malawi to find themselves in unfamiliar territory.
The context
India ranked 101st in the FIFA rankings for April, a 72-place jump from being 173rd in March 2015. The Blue Tigers last hit the top 100 in February 1996, when they were ranked an all-time high of 94.
It seems inconceivable how without playing a single match, India jumped one place to reach the top 100. But, other teams' results also matter and Madagascar's helping hand was very much necessary for India to break into the top 100.
The heart of the matter
It was already established that should Malawi, ranked 100th in April, fail to win both their African Nations Championship qualifiers against Madagascar, they would drop down a few places. Malawi contrived to lose both legs against Madagascar by 1–0 scorelines, which has catapulted India into 100th position in the FIFA rankings for this month.
What's next?
With no matches scheduled for the month of May for Constantine's men, it remains to be seen whether they can hold on to their lofty ranking for another month. In June, the Blue Tigers take on Lebanon in a friendly on 7th June before resuming their qualifying campaign for the 2019 Asian Cup against the Kyrgyz Republic at home on 13th June.
With both Lebanon and Kyrgyz Republic ranked worse than India, wins in both matches would result in little change in points gained by the Blue Tigers. That said, Constantine's charges have won 11 of their 13 most recent matches, hence they will look to continue their good run of form in June as well.
Author's take
India's top 100 finish in the FIFA rankings for May isn't a cause for much celebration, but it is an important landmark in the progress of the team under Constantine in recent months. There has been a change in approach from the experienced Englishman which has resulted in plenty of young blood being given chances, and judging by results and the progress up the FIFA ladder, this is a good time to be an Indian football team fan.